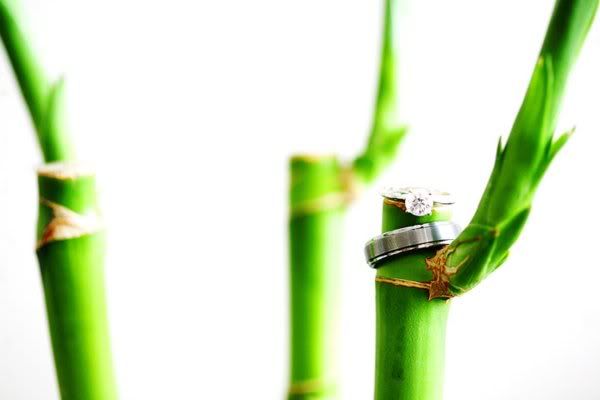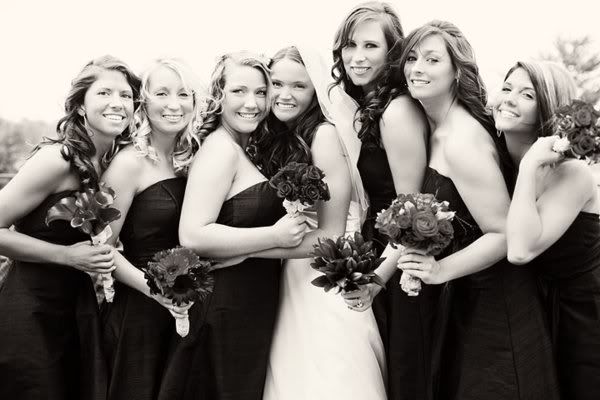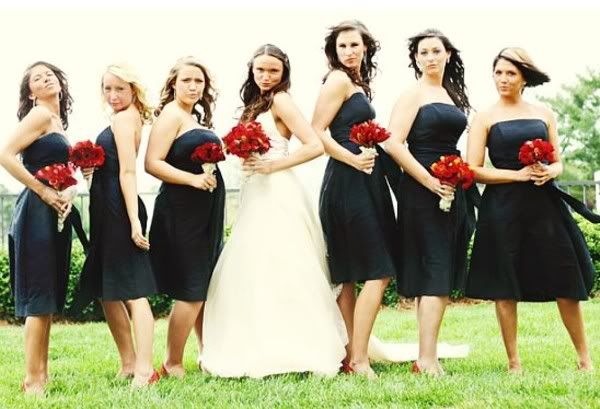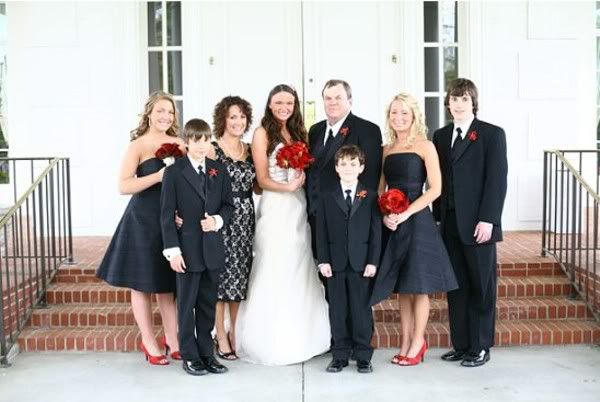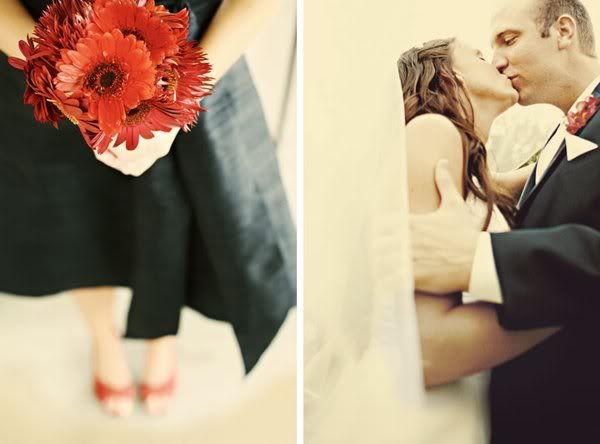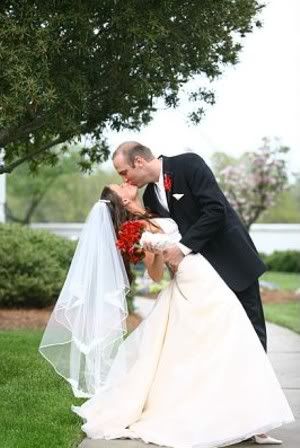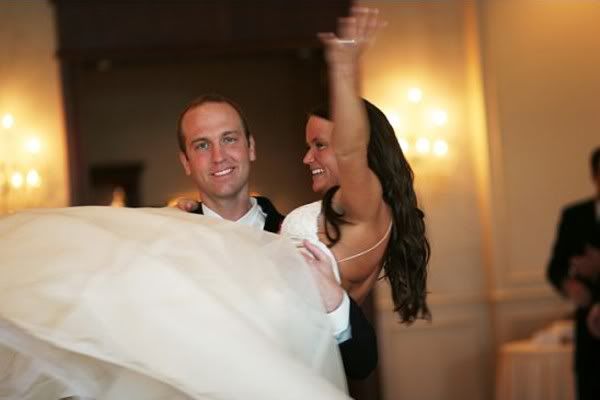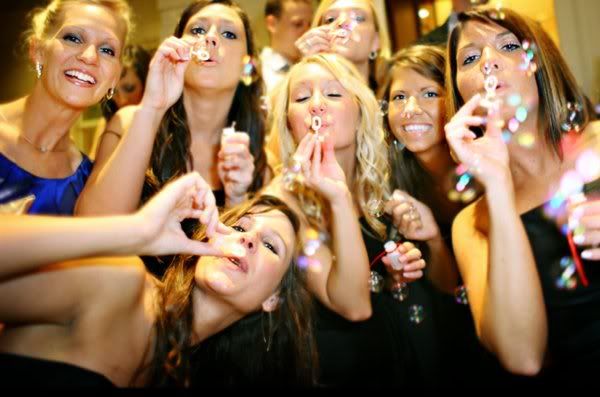 How did you two meet? Tell me your story! It is a funny story. We were in the same 3rd grade class. Ben was the "coolest" boy in the class and I had a huge crush on him! He didn't even know I existed, but I remember pawning over him with my little friends. The next year I moved to a school across town and never heard or thought anything else about him. After college when I was 22, my girl friends and I were hanging out with one of our guy friends named Chase. Chase was trying to get us to go to a party with him. When I asked him who would be there, he said, "A bunch of guys from Trinity," which is the school I left in 4th grade. I said, "Like who?" He named a few people and then he said, "Ben Spell." I started laughing and said, "I had the BIGGEST crush on him in elementary school!" I asked Chase what he was like now, and he said he was really tall (which I love) and really funny and a great guy, and single! I was single as well, so Chase and my girlfriends immediately started scheming to set me up with Ben. We all met up at a restaurant the next week, and I thought he was even cuter than he was in the 3rd grade and the crush was still there! We started dating and it was all down hill from there! It took me a few weeks of getting to know him to come clean about my crush from all those years ago!
How long have you been together? When we got engaged we had been together for three years. Now, we have been together for 4 years.
How did you get engaged? Asheville, NC is our favorite place in the world. Ben rented a cute cabin for the weekend and asked me there! It was perfect, but I knew it was coming because he can't keep anything from me!!
What is your favorite thing about each other? It's funny because our favorite things about each other are the same. We love each others sense or humor first and foremost. And, if we are talking physical, we love each others smile.
How or when was it that you know you were in love with each other? Within the first few weeks for sure. I just remember feeling like he was everything I ever wanted and more. He made me feel so good about myself and the life we could have together. It was a feeling neither of us had ever experienced before.
What was the first thing you picked out or decided after you got engaged? My Dress was the first thing I ordered or firmly decided on. But I always knew who I wanted my bridesmaids to be and that I wanted a black and red wedding.
The hardest part about planning your wedding? The hardest part was defiantly dealing with the stress of obsessing and going over every detail over and over again in my mind. For a while, I really felt possessed.
Your favorite thing about your wedding? I loved everything about my wedding!! But if I had to pick one thing, it would be my reception. It was the most fun I have ever had in my life. We were completely surrounded by everyone we love most in the world and just having a great time. We danced the night away and we even had a dance off, girls vs boys. Two of my little brothers (Adam, 16 and Joel, 11) had the best time of all dancing with all my bridesmaids!
Where and how did you pick out your wedding dress? This is a great story! About a year before I got engaged I saw a wedding gown designer named Amsale on the Oprah Show. She was showcasing some of her pieces and talking about her simple, yet elegant perspective on design. There was one dress I saw on the show that I totally fell in love with and I remembered it. When I got engaged, I got on Amsale's website to find a vendor in my area, there was only one store that carried the line near me. I went to the shop the next week and THE DRESS was there. It was the third dress I tried on. I stopped there and ordered it that day! I was in love and it was meant to be!!!
Did you have something old, something new, something borrowed and something blue items? What were they? No, I am not big on tradition. I did not have my wedding in a church. I had the ceremony at the same venue as the reception, in a big ballroom with huge windows covering two walls. I wanted to stay clear of anything "stuffy."
Any traditions in your family you followed/used? Like above, no traditions.
Did you have a theme for your wedding? No, I just wanted the whole vibe of the day to be "fun." I wanted everyone to have fun and feel happy. Ben and I love to laugh and have fun and I wanted our day to be a reflection of that!
Colors used? Black, Red, Ivory
In one word, your day was...? AMAZING
Favorite moment in the whole day? When the DJ played, Don't Stop Believing, by Journey, everyone got in a circle and put their arms around each other. We all just sang the song to the top of our lungs and took turns going out in the middle of the circle and doing a little "air mike karaoke performance." I remember looking around that circle at Ben all everyone that we love most in the world, singing with their arms around each other, thinking I was the luckiest girl in the world! I still get chills thinking about it.
Where was the honeymoon?! Sandals Ocho Rios in Jamaica.